About Us
Tiffin Box is a Indian takeaway in Stoke Newington. Why don't you try our Chicken Chaat or Diet Coca-Cola?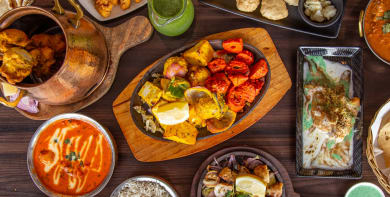 Reviews
227 reviews
Andy
"Excellent food and expert delivery."
23/07/2021
Claudia
"Good food and great service. Thank you. I will order again for sure"
18/07/2021
Miriam
"Nice food delivered promptly and nice and hot, with the kulfi well protected in insulated bag to remain cold."
11/07/2021
Iain
"Great food, delivered on time and with a smile!"
27/06/2021
Menu
King Prawn Butterfly
Spiced king prawn served on deep fried bread
£4.45
King Prawn Puree
Spiced prawns served on deep fried bread
£4.75
Tikka Starter Chicken
Boneless chicken OR lamb lightly spiced
£3.75
Tikka Starter Lamb
Boneless chicken OR lamb lightly spiced
£3.75
Tandoori Kebab
Chicken tikka, lamb tikka & seekh kebab
£4.45
Chicken Chaat
Spiced chicken on puri
£3.95
Onion Bhaji
Onions ball deep fried
£2.95
Paneer Tikka
Cottage cheese
£3.95
Seekh Kebab Starter
Spiced minced meat in clay oven
£3.95
Garlic Mushroom
Spiced mushroom on puri
£3.95
Tiffin Platter
Samosa, onion bhaji, chicken tikka, lamb tikka & seekh kebab
£5.95
Tandoori Chicken Shashlik
£6.95
Chicken Tikka Main
Marinated in yoghurt & cooked in clay
£6.25
Chicken Tikka Shashlik
Marinated in yoghurt & cooked in clay
£6.95
Lamb Tikka Main
Marinated in yoghurt & cooked in clay
£6.45
Lamb Tikka Shashlik
Marinated in yoghurt & cooked in clay
£7.25
Paneer Tikka Main
Cottage cheese cooked in clay oven
£6.95
Paneer Tikka Shashlik
Cottage cheese cooked in clay oven
£7.95
Tandoori King Prawn Main
King prawn marinated in yoghurt & cooked in clay oven
£10.95
Tandoori King Prawn Shashlik
King prawn marinated in yoghurt & cooked in clay oven
£11.95
Tandoori Mixed Grill Main
Tandoori chicken, seekh kebab, chicken tikka & lamb tikka, served with plain naan
£9.95
Tandoori Mixed Grill Shashlik
Tandoori chicken, seekh kebab, chicken tikka & lamb tikka, served with plain naan
£11.50
Tikka Masala Chicken
Marinated chicken or lamb cooked in clay oven & then cooked in creamy sauce with almond, coconut & cream
£7.45
Tikka Masala Lamb
Marinated chicken or lamb cooked in clay oven & then cooked in creamy sauce with almond, coconut & cream
£7.95
Tikka Pasanda Chicken
Cooked with coconut, almond, fresh cream & yoghurt. Very mild
£7.45
Tikka Pasanda Lamb
Cooked with coconut, almond, fresh cream & yoghurt. Very mild
£7.95
Tikka Jalfrezi Chicken
Cooked with green chilli, onions & green peppers. Hot
£7.45
Tikka Jalfrezi Lamb
Cooked with green chilli, onions & green peppers. Hot
£7.95
Garlic Chilli Chicken
Cooked with extra garlic, chilli & ginger
£7.45
Chicken Nagaria
Cooked with special naga pickle & it is a hot dish
£7.45
Chicken Shatkora
Chicken tikka cooked with a special lime from Bangladesh
£7.45
Korai Chicken
Cooked with garlic, ginger, bay leaf, green pepper & coriander, medium hot
£7.45
Korai Lamb
Cooked with garlic, ginger, bay leaf, green pepper & coriander, medium hot
£7.95
Butter Chicken
Very mild & cooked with butter
£7.45
Tandoori Chicken Saag
Tandoori chicken cooked with spinach
£7.95
Tandoori Chicken Dansak
Tandoori chicken cooked with lentil
£7.95
Tandoori Chicken Masala
Creamy mild with almond
£7.95
Meat Thali Medium
Chicken tikka, seekh kebab, lamb bhuna, chicken tikka masala, saag aloo, raita, pilau rice & naan
£11.95
Meat Thali Large
Chicken tikka, seekh kebab, lamb bhuna, chicken tikka masala, saag aloo, raita, pilau rice & naan
£19.95
Vegetable Thali Medium
Vegetable masala, saag aloo, chana bhaji, 1 piece of onion bhaji, 1 piece of vegetable samosa, raita, pilau rice & naan
£10.95
Vegetable Thali Large
Vegetable masala, saag aloo, chana bhaji, 1 piece of onion bhaji, 1 piece of vegetable samosa, raita, pilau rice & naan
£17.95
Masala Paneer
Creamy & mild
£6.75
Masala Bangladeshi Fish
Creamy & mild
£7.45
Pasanda Paneer
Very cream & mild
£6.75
Pasanda Bangladeshi Fish
Very cream & mild
£7.45
Korma Paneer
Sweet, creamy & mild
£6.75
Korma Bangladeshi Fish
Sweet, creamy & mild
£7.45
Dansak Paneer
Sweet & sour with lentils
£6.75
Dansak Bangladeshi Fish
Sweet & sour with lentils
£7.45
Bhuna Paneer
Thick sauce & medium spiced
£6.45
Bhuna Bangladeshi Fish
Thick sauce & medium spiced
£7.45
Jalfrezi Paneer
Cooked with green chilli & green pepper
£6.45
Jalfrezi Bangladeshi Fish
Cooked with green chilli & green pepper
£7.45
Rogan Paneer
Cooked with extra tomatoes
£6.45
Rogan Bangladeshi Fish
Cooked with extra tomatoes
£7.45
Curry Vegetable
Medium spice to very hot
£4.95
Curry Prawn
Medium spice to very hot
£5.65
Curry Chicken
Medium spice to very hot
£5.95
Curry Lamb
Medium spice to very hot
£6.60
Curry King Prawn
Medium spice to very hot
£9.95
Madras Vegetable
Medium spice to very hot
£4.95
Madras Prawn
Medium spice to very hot
£5.65
Madras Chicken
Medium spice to very hot
£5.95
Madras Lamb
Medium spice to very hot
£6.60
Madras King Prawn
Medium spice to very hot
£9.95
Vindaloo Vegetable
Medium spice to very hot
£4.95
Vindaloo Chicken
Medium spice to very hot
£5.95
Vindaloo Prawn
Medium spice to very hot
£6.15
Vindaloo Lamb
Medium spice to very hot
£6.60
Vindaloo King Prawn
Medium spice to very hot
£10.75
Bhuna Vegetable
Medium spice with thick sauce
£4.95
Bhuna Chicken
Medium spice with thick sauce
£5.95
Bhuna Prawn
Medium spice with thick sauce
£6.15
Bhuna Lamb
Medium spice with thick sauce
£6.75
Bhuna King Prawn
Medium spice with thick sauce
£10.25
Dupiaza Vegetable
Cooked with extra onions
£5.15
Dupiaza Chicken
Cooked with extra onions
£5.95
Dupiaza Prawn
Cooked with extra onions
£6.45
Dupiaza Lamb
Cooked with extra onions
£6.75
Dupiaza King Prawn
Cooked with extra onions
£10.95
Rogan Vegetable
Cooked with lots of tomatoes
£5.15
Rogan Chicken
Cooked with lots of tomatoes
£5.95
Rogan Prawn
Cooked with lots of tomatoes
£6.15
Rogan Lamb
Cooked with lots of tomatoes
£6.75
Rogan King Prawn
Cooked with lots of tomatoes
£10.25
Jalfrezi Vegetable
Cooked with chilli, green pepper, garlic, coriander & fairly hot
£5.15
Jalfrezi Chicken
Cooked with chilli, green pepper, garlic, coriander & fairly hot
£5.95
Jalfrezi Prawn
Cooked with chilli, green pepper, garlic, coriander & fairly hot
£6.45
Jalfrezi Lamb
Cooked with chilli, green pepper, garlic, coriander & fairly hot
£6.75
Jalfrezi King Prawn
Cooked with chilli, green pepper, garlic, coriander & fairly hot
£10.25
Korma Vegetable
Sweet & very mild with coconut, almonds & cream
£5.15
Korma Chicken
Sweet & very mild with coconut, almonds & cream
£5.95
Korma Prawn
Sweet & very mild with coconut, almonds & cream
£6.15
Korma Lamb
Sweet & very mild with coconut, almonds & cream
£6.75
Korma King Prawn
Sweet & very mild with coconut, almonds & cream
£10.25
Dansak Vegetable
Sweet & sour with lentils
£5.15
Dansak Chicken
Sweet & sour with lentils
£5.95
Dansak Prawn
Sweet & sour with lentils
£6.15
Dansak Lamb
Sweet & sour with lentils
£6.75
Dansak King Prawn
Sweet & sour with lentils
£10.25
Balti Vegetable
Cooked with special balti sauce
£5.15
Balti Chicken
Cooked with special balti sauce
£5.95
Balti Prawn
Cooked with special balti sauce
£6.45
Balti Lamb
Cooked with special balti sauce
£6.75
Balti King Prawn
Cooked with special balti sauce
£10.95
Chana Vegetable
Chickpeas
£5.15
Chana King Prawn
Chickpeas
£10.95
Garlic Vegetable
All dishes cooked with extra garlic
£5.15
Garlic Chicken
All dishes cooked with extra garlic
£5.95
Garlic Prawn
All dishes cooked with extra garlic
£6.45
Garlic Lamb
All dishes cooked with extra garlic
£6.75
Garlic King Prawn
All dishes cooked with extra garlic
£10.95
Saag Vegetable
Spinach cooked with garlic sauce
£5.15
Saag Chicken
Spinach cooked with garlic sauce
£5.95
Saag Prawn
Spinach cooked with garlic sauce
£6.45
Saag Lamb
Spinach cooked with garlic sauce
£6.75
Saag King Prawn
Spinach cooked with garlic sauce
£10.75
Biryani Chicken
Lightly spiced chicken or lamb cooked with basmati rice
£7.75
Biryani Lamb
Lightly spiced chicken or lamb cooked with basmati rice
£7.75
Prawn Biryani
Lightly spiced prawns cooked with basmati rice
£8.15
King Prawn Biryani
King prawns cooked with basmati rice
£10.45
Vegetable Biryani
Vegetable & rice mixed
£6.95
Keema Biryani
Mince meat cooked with basmati rice
£7.75
Tikka Biryani Chicken
Cooked with basmati rice
£8.75
Tikka Biryani Lamb
Cooked with basmati rice
£8.75
Mixed Biryani
Chicken, lamb, prawn & mushroom cooked with basmati rice
£8.95
Balti Keema Peas
Minced meat & peas cooked in special balti sauce
£7.95
Balti Murgh Masala
Off the bone tandoori chicken & spiced minced meat cooked with special balti sauce
£7.95
Balti Chicken Chilli Masala
Chicken tikka cooked with green pepper, chilli & ginger, hot
£7.95
Balti Mixed Biryani Special
Chicken tikka, lamb tikka & tandoori chicken cooked with basmati rice
£9.95
Balti Chicken Tikka Bhuna
Chicken tikka cooked with ginger, garlic & special balti sauce
£7.95
Balti Saag Chicken Tikka
Chicken tikka cooked with spinach
£7.95
Balti Chana Gosht
Lamb tikka cooked with chickpeas
£7.95
Balti Garlic Tandoori Chicken
Tandoori chicken cooked in special balti sauce with extra garlic
£7.95
Balti King Prawn Masala
King prawns cooked with almond, coconut & balti sauce
£10.95
Vegan Panir Tikka Starter
£7.50
Vegan Chicken Tikka Masalla
£9.95
Vegan Garlic & Onion Rice
£3.25
Vegetable Curry Side Dish
£3.95
Vegetable Curry Main Dish
£4.95
Bombay Aloo Side Dish
Spiced potatoes
£3.95
Bombay Aloo Main Dish
Spiced potatoes
£4.95
Saag Chana Side Dish
Spinach & chickpeas
£3.95
Saag Chana Main Dish
Spinach & chickpeas
£4.95
Aloo Gobi Side Dish
Potatoes & cauliflower
£3.95
Aloo Gobi Main Dish
Potatoes & cauliflower
£4.95
Brinjal Bhaji Side Dish
Aubergine
£3.95
Brinjal Bhaji Main Dish
Aubergine
£4.95
Cauliflower Bhaji Side Dish
£3.95
Cauliflower Bhaji Main Dish
£4.95
Vegetable Paneer Side Dish
Cheese
£4.25
Vegetable Paneer Main Dish
Cheese
£5.25
Tarka Daal Side Dish
Lentils with garlic
£3.95
Tarka Daal Main Dish
Lentils with garlic
£4.95
Saag Aloo Side Dish
Spinach & potatoes
£3.95
Saag Aloo Main Dish
Spinach & potatoes
£4.95
Bhindi Bhaji Side Dish
Okra
£3.95
Bhindi Bhaji Main Dish
Okra
£4.95
Saag Paneer Side Dish
Spinach & cheese
£4.25
Saag Paneer Main Dish
Spinach & cheese
£5.25
Chana Massala Side Dish
Chickpeas
£3.95
Chana Massala Main Dish
Chickpeas
£4.95
Mutter Paneer Side Dish
Peas & cheese
£4.25
Mutter Paneer Main Dish
Peas & cheese
£5.25
Peshwari Nan
Coconut & almond
£2.50
Keema Nan
With mince meat
£2.75
Paratha
Deep fried in ghee
£2.50
Stuffed Paratha
Vegetable
£2.75
Special Rice
With egg & peas
£3.25
Set Meal For 1 Person Chicken Tikka Bhuna
- Tandoori chicken (starter)
- 1 Chicken tikka masala or chicken tikka bhuna
- Saag aloo
- Pilau rice
- Plain naan
£14.95
Set Meal For 1 Person Chicken Tikka Masala
- Tandoori chicken (starter)
- 1 Chicken tikka masala or chicken tikka bhuna
- Saag aloo
- Pilau rice
- Plain naan
£14.95
Set Meal B For 2 Persons
- Onion bhaji
- Tandoori chicken (starter)
- Chicken pasanda
- Garlic chilli chicken
- Saag aloo
- Mushroom bhaji
- Pilau rice
- Plain rice
- Peshwari naan
£29.95
Vegetable Set Meal For 1 Person Vegetable Jalfrezi
- Onion bhaji (starter)
- Vegetable masala or vegetable jalfrezi
- Aloo gobi
- Pilau rice
- Naan
£12.45
Vegetable Set Meal For 1 Person Vegetable Masala
- Onion bhaji (starter)
- Vegetable masala or vegetable jalfrezi
- Aloo gobi
- Pilau rice
- Naan
£12.45
Contact Us
Find Us
9 Cazenove Road, Stoke Newington, N166PA
We deliver to
E5, E8, E9, N1, N15, N16, N17, N4, N5